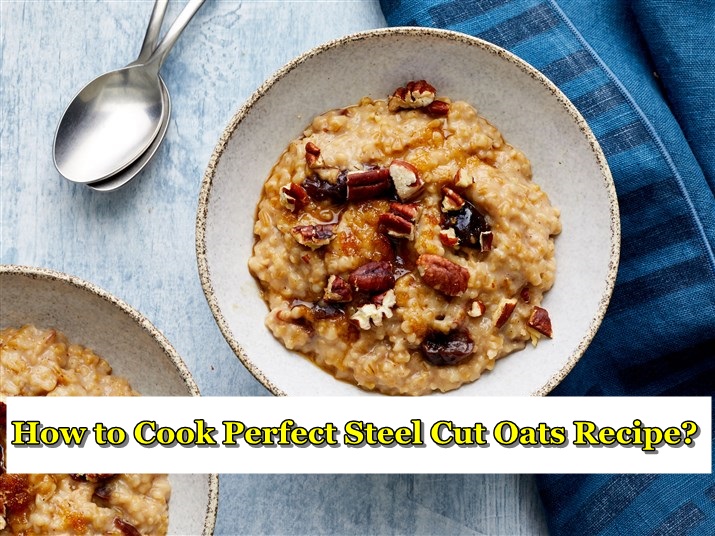 With oats a healthy food staple in many people's diets, whether it's for bulking or cutting, I thought it would make sense to dedicate an article on how to cook steel cut oats.
How to Cook Perfect Steel Cut Oats Recipe?
First, here's a brief introduction to oatmeal. There are many different types of oats. Personally I like regular Quaker oats for their convenience, although steel cut oats are nice for a change up and have a nicer texture. Steel cut oats (also called pinhead oats) are the least processed form of oats other than the unprocessed form that are called groats. Steel cut oats are produced by cutting the groat into pieces. The cutting of the oats produces a product that is less tough, absorbs water faster, and cooks faster.
The most common form of oats in the USA is rolled oats (such as Quaker) that are produced by mashing the oats often with a heavy roller, thus the name rolled oats. The difference between old-fashioned oats and quick oats is that the quick oats are rolled thin so that they will cook faster.
All forms of oats are good for your health but the steel cut variety will make you feel full longer, is better for your digestive system, and tastes better compared to other types of oats. Steel cut oats aren't mushy when cooked as rolled oats are. It is time consuming cooking steel cut oats on top of the stove, but don't worry, today we have the microwave.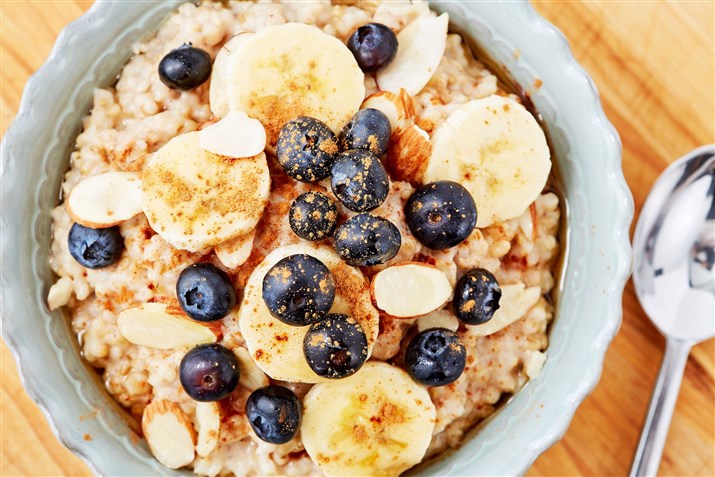 Here is the fast and easy way of cooking one serving of steel cut oats in a microwave:
1/3 cup of steel cut oats
1 cup of water
Put the oats and water in a deep, 2 ½ cup bowl and cook in a 900 watt microwave for 25 minutes at 30% power. If you use a bowl of this size or larger you don't even have to cover it. That's all there is to it.
If you want two servings either in two deep, 2 ½ cup bowls or one larger deep bowl it is just as easy.
2/3 cup of steel cut oats
2 cups of water
Cook the two serving amount for 25 minutes at 50% in a 900 watt microwave. If your microwave is more or less powerful adjust the percent power accordingly. You can even do this before you go to bed and simply reheat to save time in the morning. Anyone can do this.
You will probably want to sweeten the oats with sugar or sweetener and add milk. Use your own imagination for mixing in fruit or whatever. Dried cherries, raisins with cinnamon, or currants with cinnamon all work well.
Are you wanting to know what's the easiest and quickest way to add steel cut oats to your weight gain diet? Well, grinding steel cut oats up in a coffee grinder and throwing them in a protein shake is by far the easiest way to eat them. Not to mention the fact that you can make some super affordable weight gainer shakes using oats that are very healthy. Most days I will have several of these shakes through out the day.
The Perfect Hardgainer Shake
20oz skim milk
3/4 cup steel cut oats
2 tablespoons peanut butter
1 banana
2 scoops chocolate protein powder
This mass shake is around 1197 calories!
Obviously you can experiment with the ingredients and add whatever you want in to the weight gain shake recipe. Any fruits, honey, etc etc. mix perfectly and taste great. I like this because it takes me about 1 minute to make. If for whatever reason you cannot use steel cut oats, then regular Quaker oats will work.